Ambassador visits research library's lauded literature collection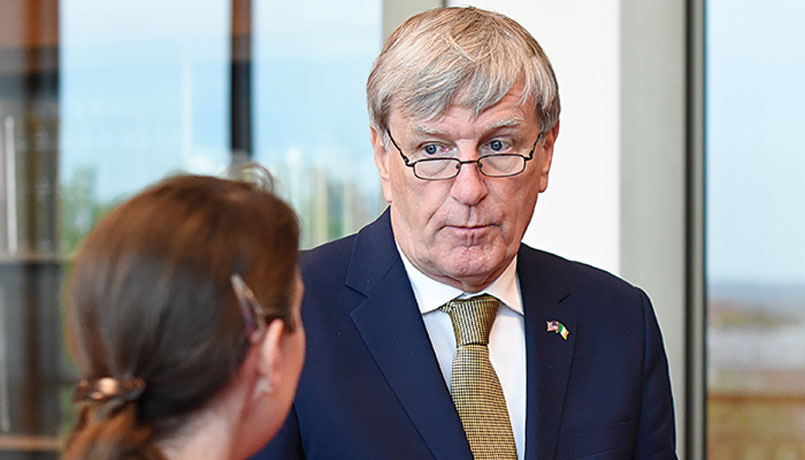 Ireland's ambassador to the United States, Daniel Mulhall, and his wife, Greta, visited campus May 15, and made straight for the Kenneth Spencer Research Library, which houses KU's Irish Collections, considered the most significant and sizable such treasury outside of Ireland.
Like any distinguished visitor, the ambassador greeted librarians, students and staff and admired the North Gallery, with its dramatic Campanile views.
"But you could tell he was eager to get into the room where the materials were," says Special Collections Librarian Elspeth Healey, "and look at it and talk about it."
In tweets he promptly shared with his international audience, Mulhall proclaimed, "What a fantastic collection of Irish material they have." Among the "gems" singled out for praise by the ambassador—who wrote his master's thesis on the writer, critic, poet and nationalist George William Russell—were a first-edition of Yeats' play "Cathleen Ni Hoolihan," a James Connolly poem and a Gaelic League poster for a 1912 carnival. Mulhall also read from KU's first edition of James Joyce's Ulysses.
"Any piece of literature or ephemera or history that we put in front of him," Healey says, "he shared with us an interesting anecdote or connection. He was really impressed by the collections."
The visit was especially delightful for Healey, who, refreshingly, did not need to offer her visitor any background on the social, political and literary forces that generated much of the material in KU's holdings. The ambassador had done a lifetime of homework.