The sweet science of shortstop
Ahuna's hard-hitting athleticism wows major-league scouts
Watching sophomore Maui Ahuna patrol shortstop or dig in at the plate, it's not a reach to project the lean, strong athlete as a boxer: lateral movement, coiled strength, athletic aggression. Turns out that's what coach Ritch Price saw when he first watched Ahuna, then a high school sophomore, at a Tampa Bay Rays scout showcase near Ahuna's Hilo, Hawaii, home.

Turns out, too, there's good reason for the sweet-science analogy to come to mind.

"Boxing is actually a huge thing for me," Ahuna says. "It helped me get quicker. Better bat speed. Footwork. Balance."
"I fully expect Maui to be the highest-drafted player in Kansas baseball history."
—coach Ritch Price, on shortstop Maui Ahuna's prospects for a career in Major League Baseball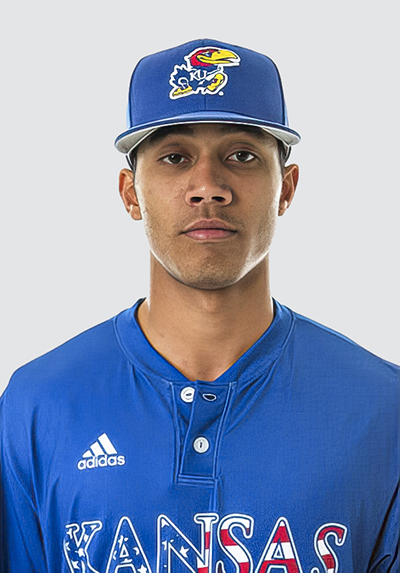 There's no professional career awaiting Ahuna in the ring, but the dream he's chasing, to play Major League Baseball, is within his grasp. His .454 batting average led the country heading into conference play; as of the week of May 9, 18 games into KU's Big 12 schedule, Ahuna's 14-game hit streak and 22 multi-hit games were both second in the powerhouse conference. The sophomore will be draft-eligible following next season, and eager pro scouts attend every KU game.
"I had a scout tell me that if Maui keeps making progress, he has him turned in as a first-round draft pick," Price says. "I fully expect Maui to be the highest-drafted player in Kansas baseball history if he continues on the upward trajectory that he's on right now."
Ahuna committed to KU on his first and only campus visit—needing only to borrow a KU baseball jacket to stay warm during his winter excursion to Mount Oread—and hit .316 with 11 doubles and 25 RBI while starting all 50 games as am freshman.
That's a pattern of early success that Price cultivates intentionally, especially at shortstop."Almost every shortstop who's played the game since I've been here has signed a pro contract. It's been the premier position on our roster," says Price, currently in his 20th year at KU. "We recruit the best freshmen we can get and play them early."
Now a lean 170 after adding 20 pounds of rock-solid muscle, Ahuna has attracted the attention of not just pro scouts, but also Baseball America and SI.com, both of which have featured him. While good for boosting the KU brand and Ahuna's profile, the national coverage also means opposing pitchers no longer let him feast on fastballs."He's doing a better job of identifying it, but he's still chasing pitches out of the zone, so it's an area that he needs to improve on," Price says. "Which is a good part of the growing experience, part of the learning experience. It's going to make him better in the long run."
The long run, for Ahuna, means reaching "the show"—"He's wanted to play pro ball since the time he could walk," Price says—but don't expect the long run to also include boxing training with his Hawaii baseball friends."We were never doing actual boxing, in competitions, but we trained hard. It was footwork, mostly, and we did a lot of running. A lot of running." Grimacing at the memory, Ahuna adds with a chuckle, "Oh, gosh, I hated those days."
Editor's note: As Kansas Alumni went to press, coach Ritch Price announced his retirement. He concludes his 20-year KU career as Jayhawk baseball's all-time winningest coach at 581-558-3. Shortly thereafter, Ahuna entered the transfer portal and in June announced his intention to play his final season of college baseball at the University of Tennessee.