A musical Jayhawk's trip around the horn completes Major League quest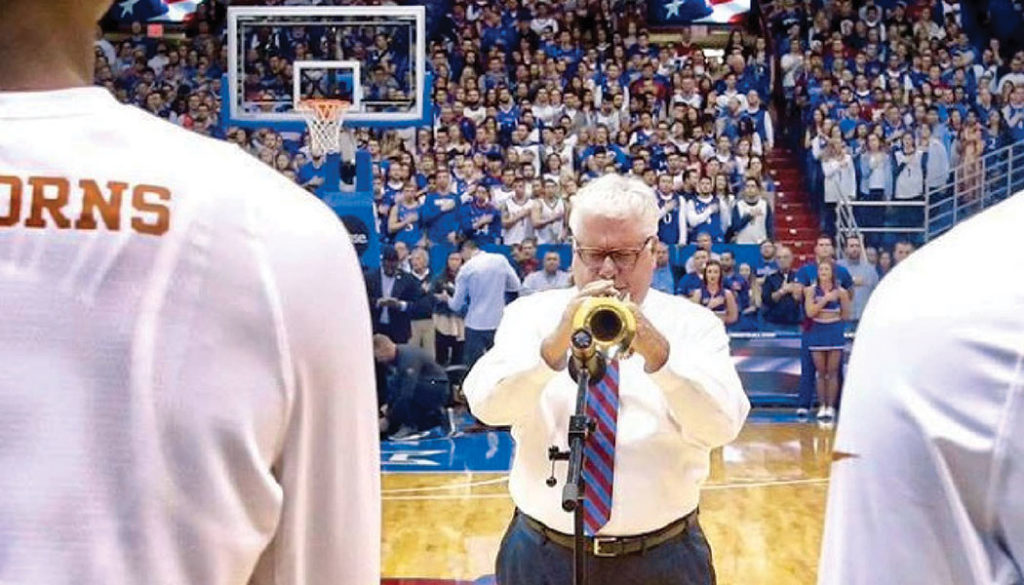 He did it: James Doepke, the intrepid traveling trumpeter who set out 11 years ago to herald "The Star-Spangled Banner" at all 30 Major League Baseball parks, completed his quest Sept. 19, playing the national anthem at the Atlanta Braves' SunTrust Park.
Retired in Estero, Florida, Doepke, d'74, finished strong, completing 10 parks this season. Not one to rest on his, er, laurels, he's now exploring the notion of playing next summer at baseball's hall of fame induction in Cooperstown or the Field of Dreams game in Iowa. 
One quest he'll never end? Playing the greatest sports venue of all. He returns Jan. 25 to perform the anthem and alma mater before KU's matchup with Tennessee, his eighth appearance in Allen Field House. Like his mother, Loretta Osborn Doepke, c'41, who "was a Jayhawk until the day she died," at 95, Doepke expects to keep that gig going as long as they'll have him. 
"I just get a real sense of love for the University, being back on campus, and there's something about coming back that is rejuvenating to me, that tugs at my heart," he says. Playing 30 ballparks was a toot, all right, "but nothing compares to Allen Field House."
There's no place like home.