Recommendations on policing target campus safety improvements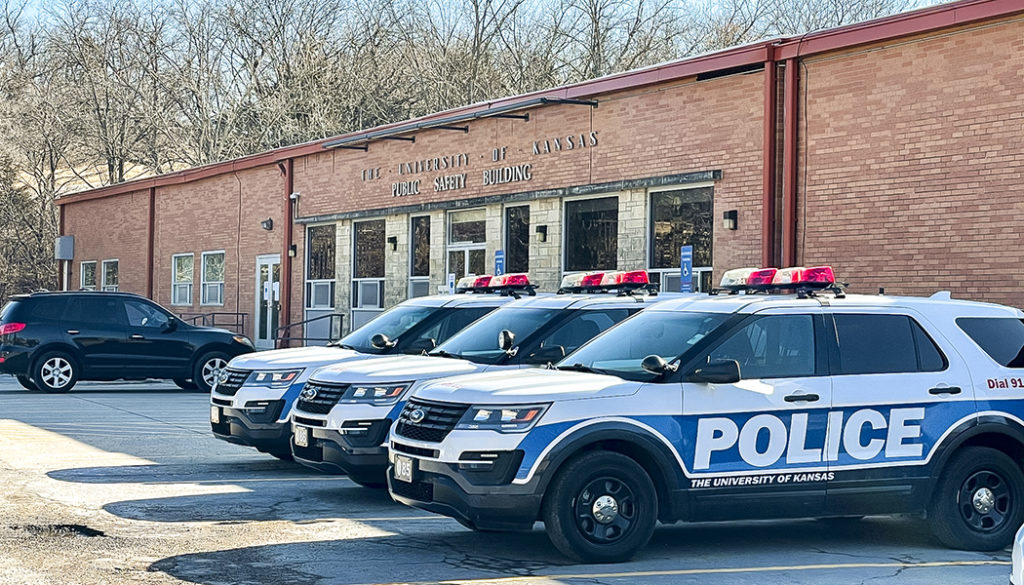 A Universitywide inquiry ordered last fall by Chancellor Doug Girod to examine public safety services at KU and recommend improvements has made more than a dozen suggestions for changes in campus policing and other public safety areas.
Chaired by Charles Epp, g'89, Distinguished Professor in the School of Public Affairs and Administration, the 27-member Chancellor's Task Force on Community-Responsive Public Safety included faculty, staff, students and alumni. The group gathered input from the KU community, including comments generated during three public listening sessions in September; a meeting with members of AbolishKU, a student group that circulated a petition to abolish the KU Public Safety Office; and a letter from the leadership of the KU Black Alumni Network that listed several concerns and called for adoption of "significant oversight and policy reforms to ensure the KU Public Safety Office and its officers are treating members of the campus community with the utmost care and respect." The task force gathered additional public comment in October after publishing a preliminary draft of their report.
"It's long past time for racism and discrimination to end. If we are to be on the side of social justice, we—meaning, we as leaders, KU as an institution, and each of us as community members—simply must do the work."
—Chancellor Girod and Provost Bichelmeyer
The group forwarded its recommendations in November to the chancellor, who has been evaluating them during the winter recess and talking with various constituent groups. He will share his formal response early in the spring semester.
The recommendations fall into three categories: 
Improvements to KU's responses to behavioral health emergencies. These include expanding mental first aid training for University Housing staff, more fully integrating KU services with Douglas County's Zero Suicide Initiative, shifting responsibility for emergency responses to students experiencing mental health crises from KU public safety officers to mental health professionals, and adding trained mental health professionals to KU first-response staff. The task force also called for establishing a working group to better integrate KU services with Douglas County's expanding mental-health care system, and ensuring adequate staffing levels in the KU Public Safety Office to reduce stress on officers due to overtime workloads.
Improvements to campus police systems for addressing issues related to officer conduct. These include adopting policies, training and supervisory procedures that incorporate de-escalation and use of force guidelines recommended nationally by groups such as the President's Task Force on 21st Century Policing, continuing the recently initiated program to gather data on the race and ethnicity of persons stopped by KU public safety officers, publishing summaries of that data annually, and integrating the information into ongoing supervision of officers, with the goal of eliminating racial and ethnic disparities in stops. The report also calls for publishing on the KU Public Safety Office website an officer code of conduct consisting of KU Pubic Safety Office policies on use of force and officer conduct.
Changes to advisory and oversight processes for the campus Public Safety Office, including establishment of a police oversight board made up of faculty, staff and students.
In addition to starting a nine-member oversight board, recommendations call for establishing a complaint process that would allow people to lodge complaints about officer conduct through various campus offices, and appointment and training of campus police officers as liaisons to groups in the KU community as a way of building trust with "groups who are historically marginalized from positive relationships with the police, particularly African Americans, Latinx, and Native groups, LGBTQIA+ groups, and international student groups."
Girod created the task force last August in the wake of nationwide demonstrations demanding social justice in response to the deaths of George Floyd, Breonna Taylor and other unarmed Black men and women killed by police. In a June email to the KU community, Girod and Provost Barbara Bichelmeyer, j'82, c'86, g'88, PhD'92, stated their determination to stand with and for all community members targeted by hate speech, discrimination and racial violence. "It's long past time for racism and discrimination to end," they wrote. "If we are to be on the side of social justice, we—meaning, we as leaders, KU as an institution, and each of us as community members—simply must do the work."
The task force's charge to come up with strategies for making campus policing more respectful, transparent and community-responsive is part of a broader effort, called for by the chancellor and provost in June, to make KU "a place that doesn't replicate, tolerate or perpetuate racism." That work further involves establishing a University-level advisory council for equity and inclusion, training campus leaders to facilitate conversations among groups on campus, partnering with leaders in higher education and the public and private sector across Greater Kansas City to address the root causes of racial violence, and making equity, diversity and inclusion improvements part of COVID-19 response and KU's long-term strategic planning.
Read the complete Task Force on Community-Responsive Public Safety report.