Far Above the Golden Valley
Jayhawk spirit soars during 107th Homecoming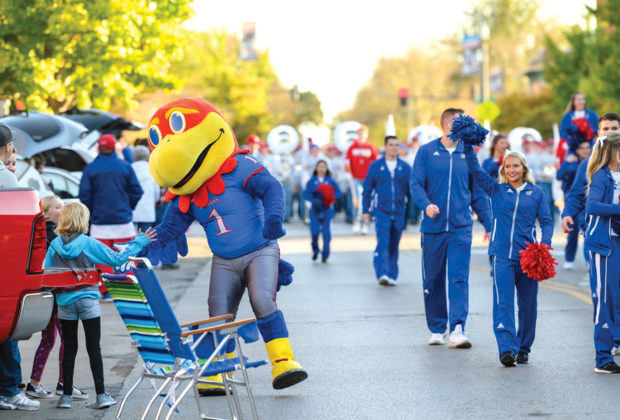 The University celebrated its 107th Homecoming Oct. 19-26 with the theme, "Far Above the Golden Valley." The weeklong series of events included several student and alumni activities, including competitions, reunions and tailgates, all of which led up to the KU football victory over Texas Tech Oct. 26 in David Booth Kansas Memorial Stadium. 
The Homecoming parade was Friday, Oct. 25, on Massachusetts Street in downtown Lawrence and featured Chancellor Doug Girod as grand marshal. Other parade participants included Warren, e'50, and Mary Crissman Corman, c'73, h'74, who received the Rich and Judy Billings Spirit of 1912 Award. The annual award recognizes Jayhawks who consistently display school spirit, pride and tradition, and honors Rich, c'57, and Judy Howard Billings, d'57, who in 2011 created an endowment to fund future editions of Homecoming. 
During halftime of the Homecoming game, three KU seniors—Tiara Floyd of Junction City, Daphne Lin of Coffeyville and Jalynn Tann of Centennial, Colorado—were announced winners of the 29th annual Excellence in Community, Education and Leadership (Ex.C.E.L.) Awards, which provide annual $250 scholarships to students. It was the first time in the awards' history that three students, rather than two, were selected. In addition, Julie Jorgensen, a junior from Cedar Falls, Iowa, received the Jennifer Alderdice Homecoming Award, which honors students who demonstrate outstanding loyalty and dedication. Alderdice, g'99, led the Association's student programs from 1999 to 2009. The overall winners of Homecoming in the Greek life category were Triangle, Sigma Kappa and Alpha Delta Pi. The All Scholarship Hall Council took first place in the Student Life, Large Organization category, and Abbi Dougherty, a sophomore from Manhattan, was recognized as the Most Outstanding Homecoming Participant.
This year's event was sponsored by Best Western Plus West Lawrence; Crown Toyota, Volkswagen; and the KU Bookstore.