Fulbright scholars named, a notable ranking improves and School of Public Affairs and Administration wins national award
Seven Jayhawks earn Fulbright Awards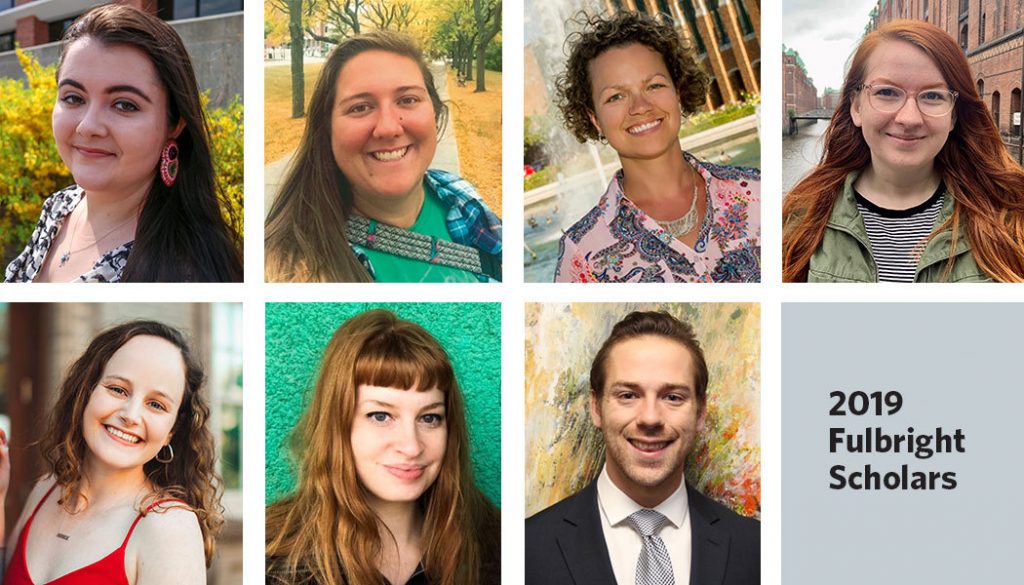 The Fulbright U.S. Student Program, the flagship international educational exchange program sponsored by the federal government, awarded prestigious Fulbright awards to seven KU students and graduates this fall. The awards, which fund travel abroad to study, conduct research or teach English, are designed to increase mutual understanding between people of the United States and other countries.
Since the program began in 1946, KU has had 477 students selected for Fulbrights. This year's recipients are:
Kayleigh Anderson, c'19, Lawrence, researching Sami indigenous women in affiliation with the gender studies graduate program at the University of Turku, Finland.
Erin Christiansen, c'15, teaching English in Germany.
Mariah Crystal, doctoral student in women, gender & sexuality studies, collecting oral histories from women involved in Namibia's War of Independence.
Meghan McNamee, c'19, teaching English in Germany.
Bridget Rennard, c'19, teaching English in Spain.
Laura Searcy, g'19, teaching English in Uzbekistan.
David Warnky, a student at the School of Medicine-Wichita, conducting research in India on the influence of preventative medicine as a cost-effective model for primary care.
Selected as alternates were Andrew Kustodowicz, g'17, a doctoral student in Japanese history, and Macie Rouse, c'19, a graduate in anthropology with a minor in African Studies.
This fall the University welcomed to campus six students from the Fulbright Foreign Student Program from Africa, Asia, Europe and South America, as well as a Fulbright Visiting Scholar from Russia.
KU moves up Best Colleges list
The University's position among America's top public universities rose two spots in the 2020 U.S. News & World Report "Best Colleges" rankings.
KU ranked 59th among public schools in the annual rankings published in September. The University also made the lists for Best Value (116th overall and 28th among public schools) and Best Colleges for Veterans (91st overall and 52nd among public schools).
"We recognize the importance of these rankings, and we always would prefer to go up," Chancellor Doug Girod said in a statement. "However, we remain focused on a broader set of metrics to measure our success, and we will be refining those further through a new strategic planning process that will be launching soon."
Efforts to improve freshmen retention rates and six-year graduation rates have shown some success in recent years, with the graduation rate rising from 59.9% in 2002 to 64.8% in 2012, the last year for which data is available.
"The work done by our KU faculty and staff is ensuring more of our students remain on track to advance in their degree programs and ultimately graduate," said Carl Lejuez, interim provost and executive vice chancellor. "When we can improve in those areas we know are important, success in rankings will typically follow."
The chancellor hosted a Visioning Day on Nov. 8 in the Kansas Union and online, sharing his thoughts on the higher education landscape and his vision for KU. The event kicked off the Strategic Planning 2020 effort, which seeks to gather input from the campus community to help set KU's course for the next decade. Alumni can view the chancellor's presentation and share their thoughts KU's future at ku.edu/strategic-planning-2020.
Public Affairs and Administration lauded for diversity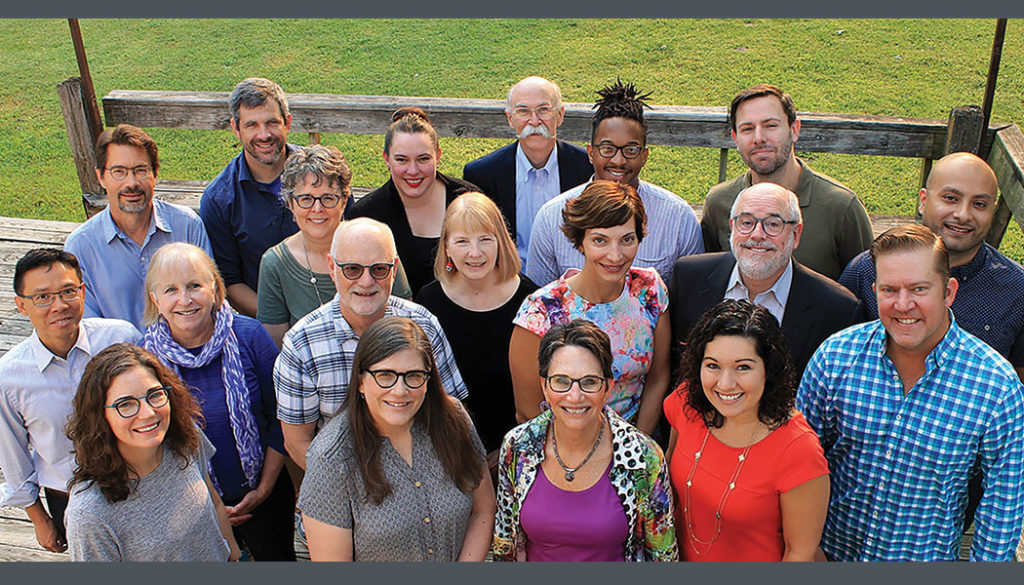 The University's School of Public Affairs and Administration received the 2019 Diversity Award from the Network of Schools of Public Policy, Affairs and Administration (NASPAA) in October. The award recognizes a program that exemplifies the highest standards of promoting and supporting diversity in research, teaching and service.
"This award reflects a great deal of commitment on the part of our faculty and our collective belief that diversity, equity and inclusion are core aspects of everything we do," says Stacey Swearingen White, director of the school. "It's a huge honor to be recognized. At the same time, we realize our work does not end here. Our diversity plan will continue to guide our efforts."
White accepted the award on the school's behalf at the NASPAA annual conference in Los Angeles.
The association also honored doctoral student Andrew Osorio, g'17, with a 2019 Staats Emerging Scholar Award. It's the second consecutive year that a KU doctoral student has won the award, which goes to only three doctoral students annually. In 2018 the Staats went to doctoral student Angela Park.