Milestones, money and other matters
Gift benefits nursing students, moot court ranks high, first-gen student support lauded
KU's 147th commencement, celebrated May 19, conferred degrees on nearly 5,000 candidates from 90 Kansas counties; 45 other states, territories and Washington, D.C.; and 49 other countries. Defying a forecast of continuing rain, skies were not cloudy all day.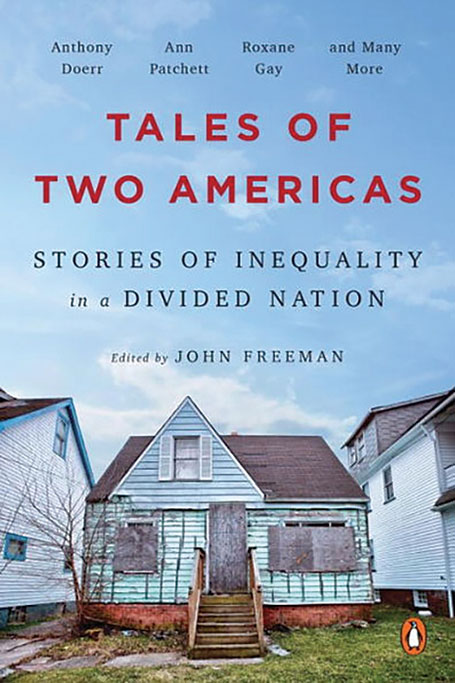 The KU Common Book for 2019-'20 is Tales of Two Americas: Stories of Inequality in a Divided Nation. Edited by John Freeman, the anthology collects essays, stories and poems from 36 major contemporary writers that examine the gap between the wealthy and the impoverished in America. Presented by the Office of First Year Experience, the Common Book annually challenges incoming students to build community, share experiences and engage intellectually by reading a work of literature and discussing it in classes and at campus events. 
A $4.2 million estate gift from Margaret Ann Zimmerman, n'47, will create a scholarship in her name providing financial support for a wide range of nursing students. Zimmerman, who grew up in Whitewater and died in Silver Spring, Maryland, in 2017, had a long career in nursing and was a dedicated volunteer. Her gift will support doctoral and postdoctoral students in nursing and help recruit students in the undergraduate nursing honors program and the school's Nursing Pathways program, which focuses on diversity.
KU was named a First Forward institution this spring by the Center for First-generation Student Success. The designation, given to only 80 schools nationwide, recognizes excellence in improving educational experiences
and outcomes for first-generation college students.
A $1.4 million estate gift from Martha "Matt" Mueller, d'55, will establish the Mueller Family Fund to support KU Libraries and create undergraduate scholarships for students in need. Mueller, who died in 2018, was a retired librarian who worked at the New York State College of Ceramics for 25 years. The Mueller Family Fund honors her mother and father, Helen, c'23, g'32, and Felix, and her late sister, Jeanne Mueller Lewin, c'51.
The School of Law's moot court program this summer achieved its highest all-time ranking—14th—in national rankings published by the University of Houston Law Center. The top 16 programs will compete in the 2020 Blakely National Moot Court Championship in Houston. Second-year law students T.J. Blake, c'17, j'17, of Hutchinson, and Andi Leuszler, c'17, of Lenexa, will represent KU in the contest.
A $1 million gift from Cheryl Lockton Williams of Mission Hills will establish a new insurance and risk management certificate program in the School of Business. The gift honors Williams' late husband, Jack Lockton, founder of the Missouri-based Lockton Companies, the world's largest privately held insurance brokerage firm. They were married for 31 years before Jack's death from pancreatic cancer in 2004. The program launches this fall and will prepare students for careers in insurance and risk management.