KU scholars find two prestigious awards twice as nice when shared with a friend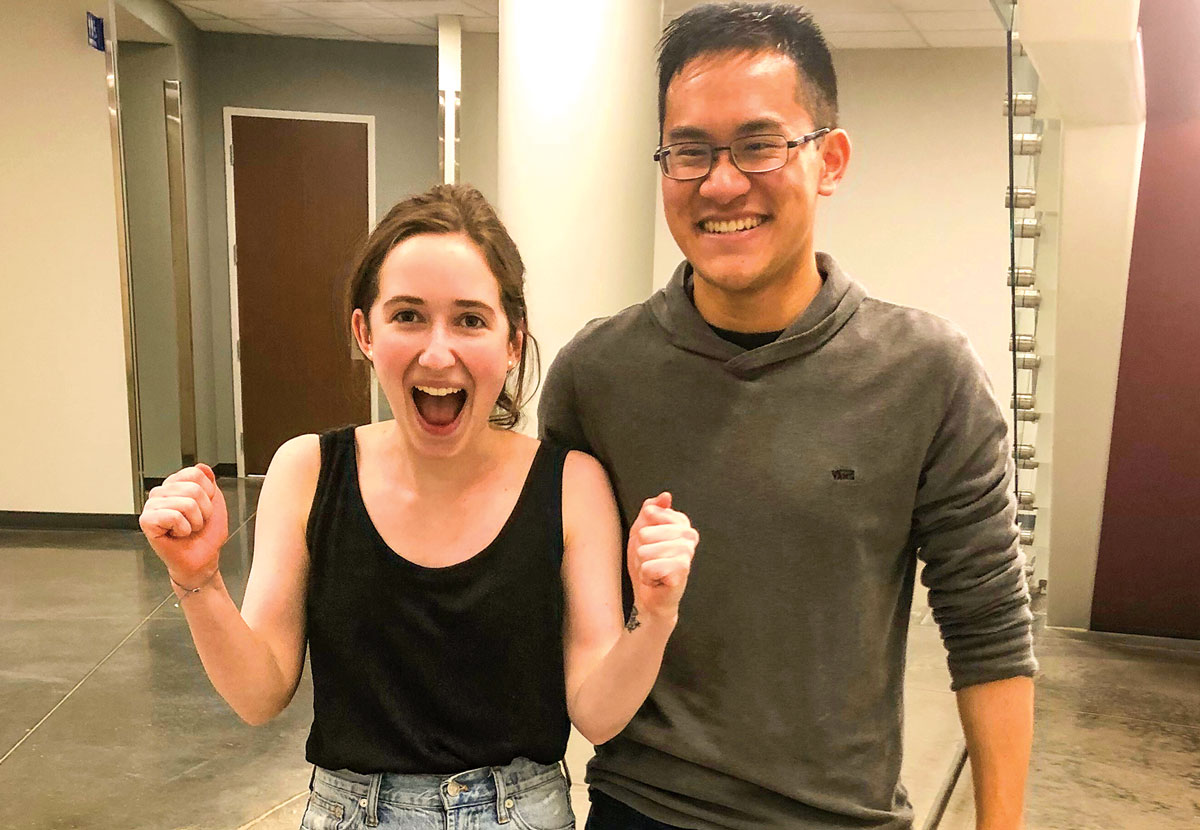 A photograph snapped by a fellow student just after Eleanor Stewart-Jones and Tyler Nguyen learned of their twin Goldwater triumphs captures the happy ending of a long, rigorous application process. "We jumped up and down and screamed a little," Stewart-Jones says. "It was just a really great feeling." Photograph courtesy Eleanor Stewart-Jones
When she was a freshman, Eleanor Stewart-Jones made two sets of goals: One she called reasonable; the other she dubbed "absolute pie-in-the-sky."
"For me, absolute pie-in-the-sky was getting both the Goldwater and the Astronaut," says the Mission senior.
Tyler Nguyen was more focused on exploration when he arrived on Mount Oread—even earlier if you consider that the Kansas City, Kansas, senior with an abiding interest in outer space went trick-or-treating one Halloween dressed as the universe.
"I knew I wanted to do something in science," says Nguyen, "but I didn't know specifically what. I came to KU to explore and see what was out there."
The fellow chemistry majors and fast friends learned this spring that they are among 496 students nationwide named 2019 Barry M. Goldwater Scholars, and in June that they will be joining 50 other students from STEM fields this fall as 2019 Astronaut Scholars.
Both prestigious awards include money for school—up to $7,500 from the Goldwater and as much as $10,000 from the Astronaut—but Stewart-Jones says the funding, while "absolutely phenomenal," is but one benefit.
"I want to go into academia as a research professor, and the fact that I've gotten these awards tells me a number of very accomplished scientists think I have the potential to do that," she says. "It means a lot that people I respect a lot believe that's an achievable goal for me. And, frankly, it will help me get into a competitive grad school, which is really necessary if I want to run my own lab."
"The scholarships will help me get into the best graduate programs," Nguyen says, "and the mentoring and networking will be important for building a successful research career."
Awarded by the Astronaut Scholarship Foundation, created in 1984 by the six surviving Mercury 7 astronauts, the Astronaut Scholars award recognizes the best and brightest juniors and seniors in science, technology, engineering and mathematics. Students participate in professional development events and can be mentored by an astronaut, business leader or former Astronaut Scholar.
The Goldwater Scholars are sophomores and juniors with outstanding academic records, significant research experience and high potential for careers in mathematics, natural sciences or engineering. Since the Goldwater was initiated in 1989, 67 KU students have won the award.
Stewart-Jones and Nguyen share a love of music (she plays violin; he plays piano) and have taken nearly every class together since freshman year. Knowing, to the minute, when the Goldwater winners are announced, they made plans to experience the big reveal together, retreating to a quiet spot in the Integrated Science Building basement to monitor their inboxes.
"I think we each thought one or the other would get it, not both," Stewart-Jones says. "But we refreshed our emails at the same time and saw that we both received it, and we jumped up and down and screamed a little. It was just a really great feeling."
The Astronaut announcement came after Nguyen traveled to Ireland for an exchange program that Stewart-Jones completed last summer; this time they shared their good fortune via FaceTime.
"I think at first I was just kind of in shock," Nguyen says. "I was like, 'Whoa, I can't believe it. We did it.'"
Both have maximized undergraduate research opportunities at KU and each plans a research career. Stewart-Jones finds the freedom of academia appealing and hopes to run her own lab that mimics the chemistry done in the active sites of proteins that use metal. Nguyen, who's minoring in astrobiology and has researched the chemical modification of materials for nanotechnology and bioengineering applications, is keeping an open mind about whether his career path will lead to academia or industry.
What seems clear is that each feels as happy for the other's triumph as for their own.
"To have all the courses with someone, to study with them, to go through the process—applying for these awards is not a simple thing—to get the nomination and then finally receive it together, it just was a huge burst of euphoria and release and happiness," Stewart-Jones says. "And the fact that we're friends, I guess, makes it all the better."