'Victory Eagle' joins other remembrance sites on reconstructed Memorial Drive
The University community gathered May 20 on reconstructed Memorial Drive to dedicate the Victory Eagle statue, in the words of Lorie Vanchena, associate professor of German studies, "for the third and, we expect, last time."
Finally nested atop its permanent home, a truncated pyramid of Kansas limestone atop a granite base, at Memorial Drive's Mississippi Street terminus, the bronze bald eagle guarding her hatchlings "appears as if it is standing guard over the serenity of the open green space behind it," noted Mike Denning, c'83, director of the Office of Graduate Military Programs, president of the Association's Veterans Alumni Network and a retired Marine colonel, "much as those who are currently forward deployed are providing overwatch for our great nation."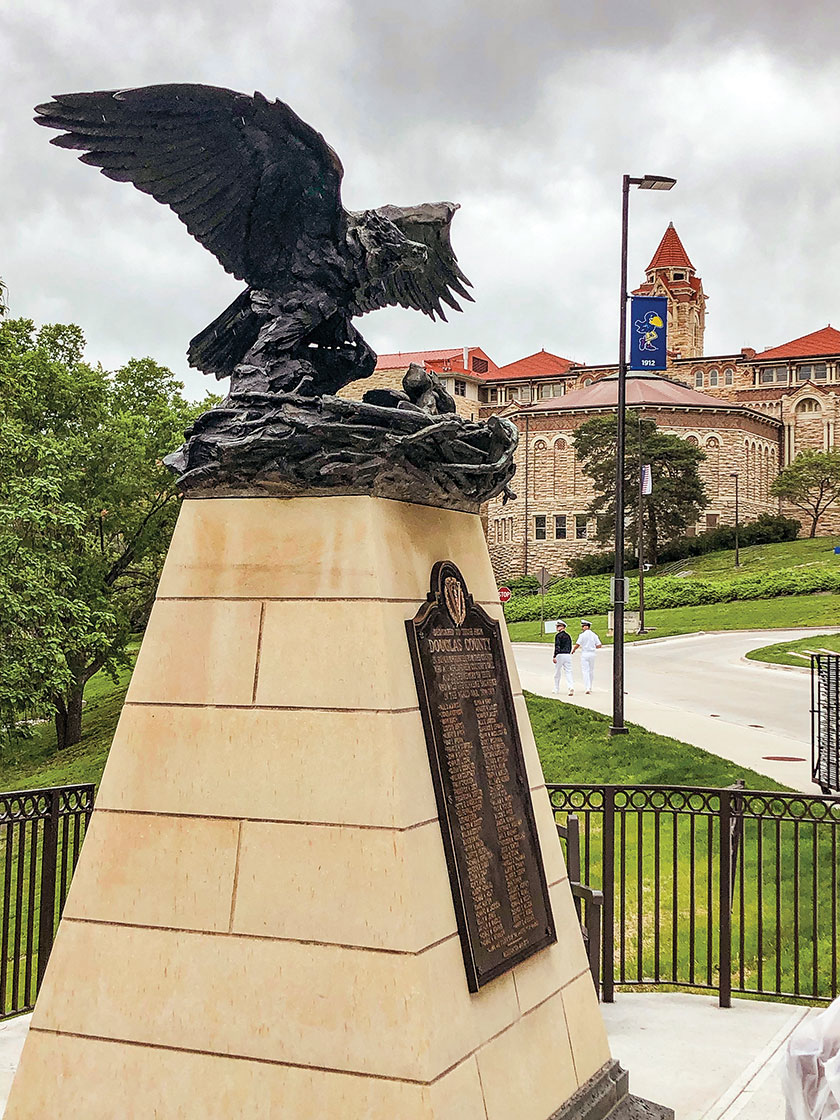 Vanchena, chair of the University's World War I commemoration committee, noted that 18 of the 68 fallen Douglas Countians memorialized on the statue's new plaque were KU students and alumni: "This monument makes world history our university history." 
First placed at the Douglas-Leavenworth county line in 1929, as part of what was envisioned as a nationwide network of statues stretching the length of the coast-to-coast Victory Highway, the toppled relic was rescued in 1980 from a highway cleanup crew by Tom Swearingen, f'60, then the Natural History Museum's director of exhibits. The refurbished eagle found a home in front of Dyche Hall, where it was rededicated in 1982.
KU's 2002 landscape masterplan featured a renovated Memorial Drive, along with a hope that the eagle could perch nearer to other war memorials.
"This is a proud day for KU," said Chancellor Doug Girod, a retired lieutenant commander in the U.S. Navy. "We commemorate the final completion of Memorial Drive, which has turned out so beautifully, with increased [pedestrian] safety, but it has made it possible for so many more people to enjoy the memorials we have all along this drive, of which this is the latest."
With parking now facing into the hillside south of the drive, the north side now features sidewalks and—with no parked cars spoiling the viewshed—clear views of Marvin Grove, the Hill and Potter Lake.
The new Memorial Drive, reconstructed over three summers, invites campus visitors to pay respects at the World War I, World War II, Korea and Vietnam war memorials without dodging traffic along the tight, curving road.
"To have these green spaces, to be able to take in these views, is very important," said University Architect Jim Modig, a'73, one of the original proponents of moving the Victory Eagle to Memorial Drive. "It becomes an experience that is a combination of respect and remembrance for those who lost their lives, and also a reflection on the serenity of the environment around these beautiful memorials that mean so much to all of us."