The lives and careers of five stellar KU leaders illustrate what it means to be a Jayhawk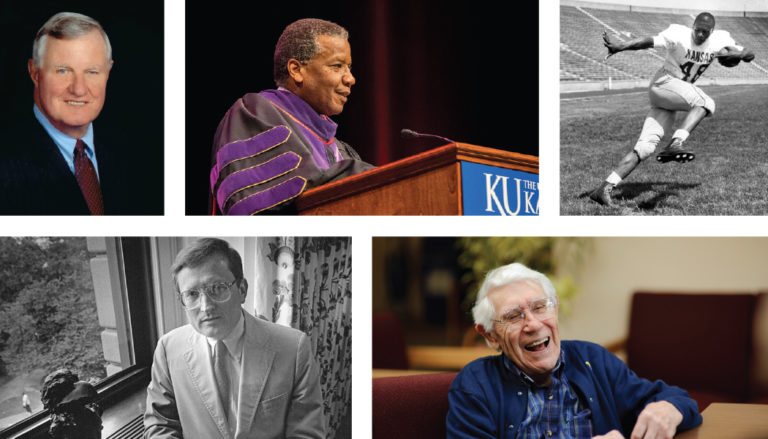 Families speak their own languages—trading in fond or fiendish nicknames, shorthand allusions to treasured (or dreaded) stories and quirky sayings handed down through generations. 
In our KU family, we know in our bones that our one-of-a-kind mascot is more than a bird. It's a word steeped in proud history, signifying the determination and courage of bold Kansas settlers who believed in freedom and opportunities for all, especially through education. Their noble ideals inspire the University's mission and help define what it means to be a Jayhawk. 
Amid these past few anxious months, our family suffered the loss of five legendary Jayhawks. Although the cascade of sad news leaves us reeling, their lives as servant leaders remind us of the values we all hold dear.
Dick Bond, c'57, l'60, died July 23 at 84. His many lofty titles, including president of the Kansas Senate and chair of the Kansas Board of Regents, only hint at his enduring impact on Kansas. For 14 years in the Senate, he was a stern negotiator who also believed in compromise and the necessity of investing in the future. In 2008 he rallied his fellow citizens—amid the nation's financial crisis and looming recession—to approve a sales tax to fund the Johnson County Education and Research Triangle, which continues to expand teaching, research and health care at KU Medical Center, KU Edwards Campus and Kansas State University's Olathe campus, creating jobs and fueling work-force and economic growth. Dick Bond strengthened our state for years to come. 
Gene Budig, KU's 14th chancellor, died Sept. 8 at 81, as issue 3 of Kansas Alumni went to press. We quickly remade a page to include a tribute ("Jayhawks mourn loss of a visionary leader,"), but that story—and this refrain—cannot begin to capture the breadth of his wisdom, kindness and solid dedication to students and faculty. Chancellor Budig helped lift KU to new heights (and he quietly offered vital encouragement to a young magazine editor who remains forever grateful).
Sept. 19 brought the devastating news that Reggie Robinson, c'80, l'87, for 40 years a guiding light among Jayhawks, died at 63. Reggie was a true public servant and genuine friend, beloved by all who knew him. He led with grace, humility and goodness in numerous leadership roles for KU, the state and the nation, beginning with his election as student body vice president and culminating most recently in his tenure as vice chancellor for public affairs, a role he left last December for what he called his dream job—the opportunity to improve the lives of even more fellow Kansans as CEO of the Kansas Health Foundation. We will never forget Reggie's radiant smile, his perfect blend of brilliance and humility, and his abiding affection and concern for others. 
On a single September day, we lost two legends, one now memorialized in a bronze statue on campus (see Hail to Old KU); the other whose name endures on one of KU's most productive and far-reaching research enterprises. Gale Sayers, d'75, g'77, died Sept. 23 at age 77. As the "Kansas Comet" and an NFL star with the Chicago Bears, he attained lasting football fame. He also offered a profound lesson for generations through his friendship with teammate Brian Piccolo, captured in the classic film "Brian's Song," the story of a bond that defied societal barriers. Sayers later became a successful entrepreneur and, in his third career, raised funds for his alma mater to benefit the Williams Education Fund and the School of Education and Human Sciences. 
Dr. Richard Schiefelbusch, g'47, namesake of KU's renowned Institute for Life Span Studies, also died Sept. 23, at 102. We have highlighted chapters of his amazing life often in Kansas Alumni, most notably in 2009, when we celebrated his vibrance at 91. His story began in World War II, when his plane was shot down over the Baltic Sea and he was taken to Stalag Luft III at Zagan, Germany, where he drew on a deep well of compassion to create a sense of community that sustained his fellow POWs. He emerged determined to pursue a career helping others. As a speech therapist, he founded the speech-language-hearing clinic, the first KU entity to bear his name. He also created the Bureau of Child Research, the precursor to the Life Span Institute. As a champion of independence and self-determination for people with disabilities, he led revolu-tionary research that transformed lives. Throughout his life and career, Dick Schiefelbusch embodied KU's mission to educate future leaders, build healthy communities and make discoveries that change the world.
In recent weeks, our family has shared memories and traded tributes to these incomparable Jayhawks. They join the ranks of heroes, known to few or to many, who continue to guide us. They affirm the best in us and all we hope to be.
Photo credits: Courtesy Dick Bond, KU Marketing Communications, Spencer Research Library, Steve Puppe, Spencer Research Library