Talk and squawk in the news
"I want to thank you for coming out and voting and doing your part."

–Actor Paul Rudd, '92, handing out cookies to fellow New York residents in pouring rain as they waited in Brooklyn. "One of the things that's been really encouraging is seeing how many people are coming out early and voting all across the country," he said. "Anybody who is waiting in line deserves to be, I think, thanked and encouraged and recognized, and that's what we wanted to do."
"It makes me feel good, that people know the food is there for them."
—Washington Post coverage of Wichita fifth-grader Paxton Burns who, with his mom, Maggie Ballard, '06, in 2016 launched a network of "Paxton's Blessing Box" food donation sites to assist neighbors in need. The crimson boxes—a nod to Paxton's love of all things KU—have spread nationwide, and his big-hearted outreach recently earned a humanitarian award from the Wichita nonprofit HumanKind Ministries.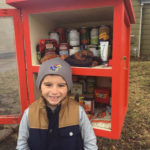 "I call Lawrence and Douglas County a little beacon in the state of Kansas. It seems like we're surrounded by a lot of areas that are lighting up and yet our numbers have continued to decline. … I want to thank the community and everyone involved in this effort. It has been a daily—sometimes grinding but always rewarding—effort in bringing the school back."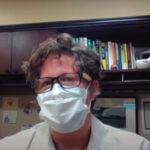 —Dr. Jennifer Schrimsher, h'00, g'05, m'10, infectious disease specialist at LMH Health, Oct. 28 on the University of Kansas Health System's daily COVID video briefing, describing the collaboration of the University, KU Medical Center, the KU Health System, LMH Health and Lawrence Douglas County Public Health to keep the University open through the first nine weeks of the fall semester.
"I'm not a fan of heights."
–Retired Army major and Lawrence resident Raymond Finch, d'80, g'92, after leaping on Oct. 6 from a perfectly good airplane while strapped to a member of the Army's Golden Knights aerial demonstration team, thanks to an invitation from his son, Lt. Col. John Finch, professor of military science and commander of KU Army ROTC's Jayhawk Battalion. Learning that the Golden Knights sought local notables to skydive with their squadron, he thought of his father, a KU ROTC alumnus who had managed to retire from a distinguished military career without such a jump.