Wescoe Beach's iconic sun worshiper marked the occasion in Lawrence.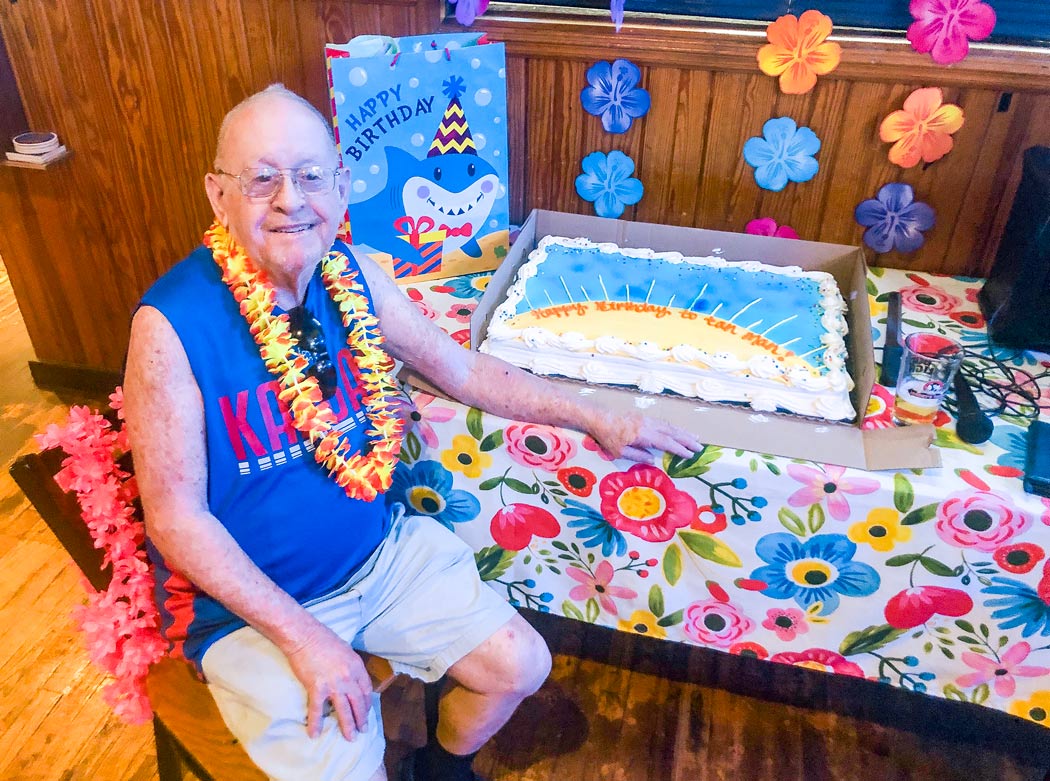 John Schneider, celebrated by generations of Jayhawks as the legendary Tan Man, on June 24 returned to Lawrence from his Rose Hill home for yet another Johnny's Tavern birthday bash organized by Marc, b'78, and Celeste Carrier Jasperson, '79.
In fighting trim, thanks to his home exercise regimen, and sporting a sunny lei over his sleeveless Kansas T-shirt, Schneider enjoyed face-to-face renewals of the many KU friendships he maintains with regular phone calls.
"Feeling great!" Schneider said, cradling a cold glass of beer before diving into a particularly festive birthday cake baked in his honor.
As we reported from the milestone birthday party that the Jaspersons threw for Tan Man five years ago ("Tan Man Returns," issue No. 5, 2018), Schneider recalls fondly the years he perched shirtless on Wescoe Beach, overcoming his shyness to greet students as they accepted him as a treasured member of the Jayhawk flock.
Here's a toast to many more happy and healthy years for our fine friend of a feather, but next time, let's take it to the Beach!
Chris Lazzarino, j'86, is associate editor of Kansas Alumni magazine.