Familiar face
I was surprised and pleased when I saw the photo of the Dodge City Cowboy Band on the cover ["The Last Cattle Drive Redux," issue No. 4, 2020]. There was my grandfather, Tim Young, on the front row with his snare drum.
According to a news article, Tim served as Ford County Clerk for most of his working life. He attended Dodge City schools and was a member of the Cowboy Band from about 1904 until 1949. Additionally, Tim was active in booster events in southwest Kansas, Boy Scout work, and as a member of the National Guard during World War I.
Thanks for the memories.
–Susan Sutton, d'71
Concordia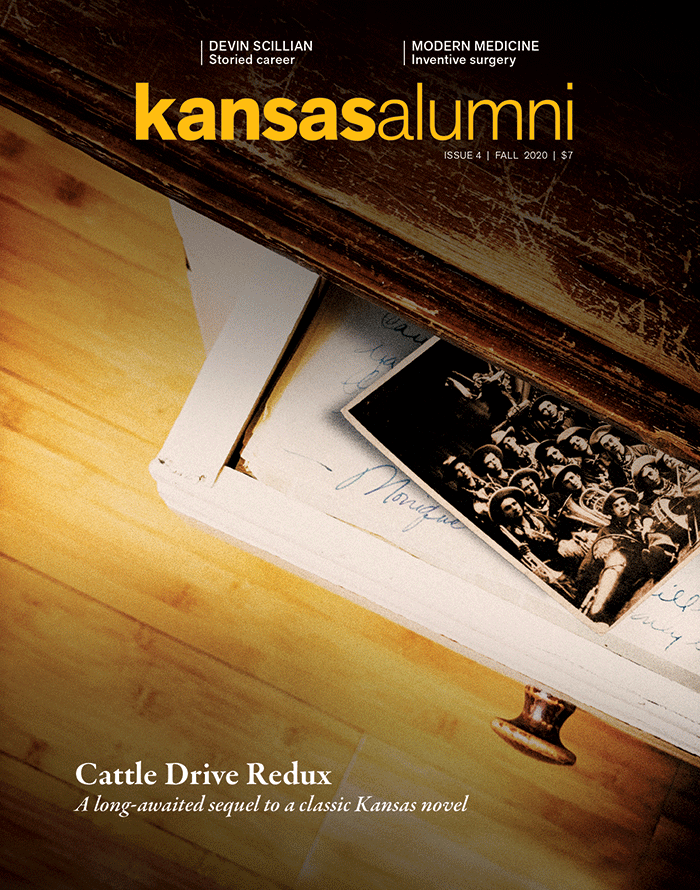 Character questions?
Chancellor Girod and Provost Bichelmeyer's response to the tragic death of George Floyd raises questions about the character of our University. ["Mandate for Change," Rock Chalk Review, issue No. 3].
Does the Chancellor presume an outsize role of racism in the "tragic litany of African Americans lost to violence"? Is Steven Pinker's pithy summary more accurate? "Data: Police don't shoot Blacks disproportionately. Problem: Not race, but too many police shootings." Do our administrators presume one proper response shared by all decent people to these tragedies? Spike Lee's advice to eschew reliance on a "magical Negro" to instruct us in all matters of race seems prudent when the public square resonates with such different takes as those of Ibram X. Kendi or John McWhorter. Is the Chancellor's Task Force a rubber stamp intended to implement policies based on incorrigible first principles (diversity, equity and inclusion)?
Should we commit to the fashionable mantra of diversity, equity and inclusion? Or recommit to the liberal creed that steadfast commitment to equal opportunity in a meritocratic society is equity instantiated? Is diversity a first or second thing? Wouldn't it be utterly perverse to privilege skin pigment over objective qualification as a first principle?
In a meritocratic society, are unequal outcomes among ethnic groups prima facie evidence of inequity and "systemic racism"? Are disparities inevitable in an open society? Should we rebalance the NBA (or the KU Department of African and African American Studies)?
Is inclusive excellence an oxymoron—weasel words used by beleaguered administrators who can't acknowledge difficult trade-offs need to be made, given scarce educational resources?
Five new committees or task forces. Are we instantiating Pournelle's Iron Law of Bureaucracy? To wit: Any organization has two kinds of people— those dedicated to furthering the organization's original mission—like professors turning out well educated students; and those dedicated to furthering the bureaucracy by expanding their budgets and staffs.
Is the search for institutional racism which truly disadvantages African Americans at KU a snipe hunt? Does our administration forestall debates on debatable topics? Such as: Define social justice. Define systemic racism. Are "difficult conversations" settings where faculty and staff don't get with the program transmitted in workshops "Deconstructing Privilege"? Or conversations where freshmen in the KU Common Book read don't share the viewpoint of the facilitators?
Are we a "KU family" or is that ideal adolescent, cloying and claustrophobic? Are we still an academic community which entertains and tolerates different viewpoints, though they may offend? In a family "there are times, after all, when it is necessary to call a spade an implement highly useful for digging" (Joseph Epstein). In a liberal academic community the rules of engagement are more boisterous. Are we a liberal or illiberal institution? The University can answer the question by formally adopting the University of Chicago free speech and expression principles—or not. The University Senate Committee on Freedom of Speech appointed in Fall 2016 still hasn't produced a formal recommendation. We shouldn't have to wait as long as Odysseus's dog for our University to ante up.
–George K. Bascom, c'73, m'76
Kearney, Nebraska
Editors' note: We welcome letters to the editor. The Alumni Association and the University remain committed to free speech and the rights of all individuals to express their differing personal views, including those that others might find challenging or inappropriate. Letters appearing in Lift the Chorus represent only the authors' opinions, and Kansas Alumni reserves the right to edit as needed for clarity and as space requires. Send responses to articles in the magazine to kualumni@kualumni.org or 1266 Oread Avenue, Lawrence, KS 66045-3100.