Champion coverage, Commencement thanks, honors noted
The next best thing to being there
We were on a three-week rafting trip on the Colorado River through the Grand Canyon: 226 miles, trip of a lifetime. But we dropped off the rim into the canyon as the Jayhawks were heading to the Final Four and didn't know a thing. We missed it ALL!
We watched recorded games, liked social media posts, and answered many a text worried about why I wasn't responding—at all. But nothing captured the fun like Kansas Alumni's coverage.
One Day. One KU; graduation; and addiction recovery added to the delight.
Be proud, friends. You guys make amazing stuff.
—Jodi Breckenridge Petit, d'90, g'93, PhD'98
Salida, Colorado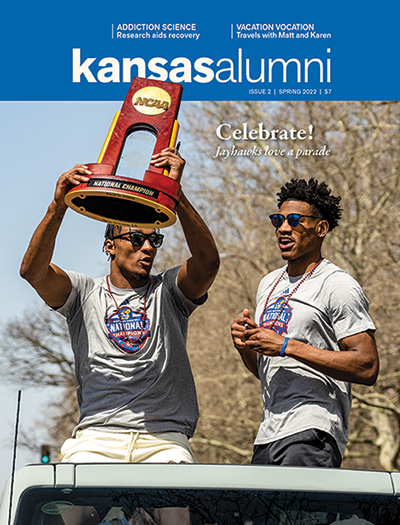 Only lightly touched on in the article, but an aspect of the championship and celebrations that makes me even more proud to be a Jayhawk was the absence of burning cars, looting, rioting, etc., that we see on the national news when other communities celebrate a national championship. Kansas' class showed through.
By the way: Add my name to those disappointed at the In Memory changes despite a bunch of otherwise positive changes.
—Dan Caliendo, c'63, m'67
Andover
Latest lauded
I enjoyed the latest issue of the magazine, including the profile of Mackenzie Hanna, who works for the KU Health System as a social work case manager in the neurology unit ["Health hardships guide social worker," Always Jayhawks]. This young lady has certainly had her own personal health challenges. Despite these setbacks, however, she has been able to surmount her medical issues and find a career that helps others facing similar health and life challenges. She is a real inspiration!
I also enjoyed the article about the U.S. national park trekkers and podcasters, Matt and Karen Smith ["Happy Campers"]. Because I have visited many of the national parks myself (with a KU grad friend), the article revived fond memories of my trips as well as the beauty of our National Park System.
—Tom Schwegler, c'78
Parkville, Missouri
Honors duly noted
I agree with those who complained about the elimination of information from In Memory obituaries. [Lift the Chorus, issue No. 2]. For example, a hero of mine included in the Spring issue should have been cited for his athletic achievements.
Bill Lienhard, b'52, who died Feb. 8 in Lawrence, was a basketball All-American as a member of the 1952 NCAA champions, won a gold medal at the 1952 Olympics, and was enshrined in the KU Athletics Hall of Fame and the Kansas Sports Hall of Fame.
Wouldn't it have been great to have those outstanding achievements mentioned? I know space is a problem, but I believe that many deceased alumni should be recognized for their accomplishments.
—Kenn Johnson, g'70
Des Moines, Iowa
A walk to remember
Thank you to KU and the Alumni Association for helping the classes of 1970 and 1972 to fulfill the dream of walking down the Hill at Commencement ["Worth the wait," Always Jayhawks, issue No. 2].
I had long looked forward to this, but was unprepared for how much it actually meant when I passed through the Campanile. I was blessed to be joined by two college roommates, Meredith Vincent Porter, d'70, g'94, and Shirley Noble Singer, d'70, g'78. We had a blast.
My father, p'38, also was unable to walk down the Hill the year he received his degree. I'm very sure he was there walking with me!
—Kathy Richey Walker, d'70
Lawrence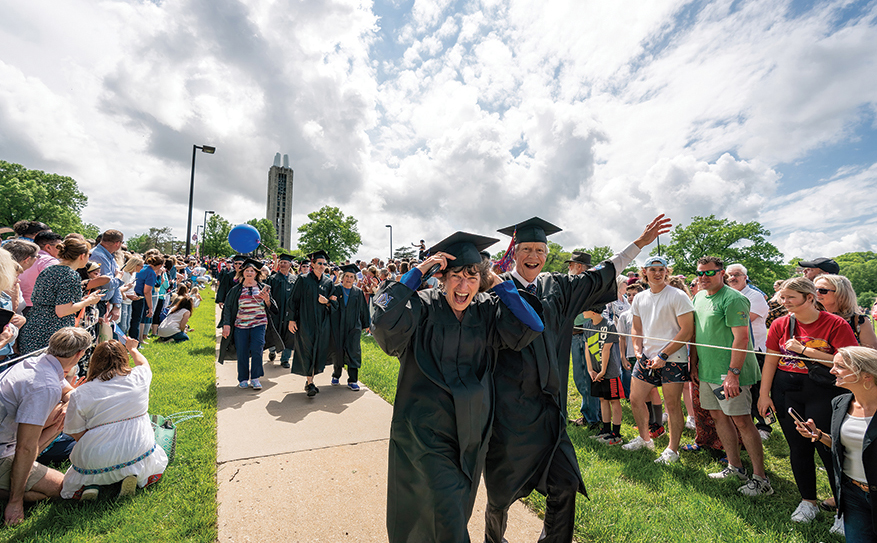 My husband, Kelly Mathis, p'70, and I would like to thank you again for helping to finally make our walks down the Hill actually happen, and for the wonderful time shared at Commencement.
We had such a great time and were so surprised and pleased with the reception and many congratulations (and happy faces and smiles) from others experiencing their Commencement for the first time. It was a super day, one that we will always treasure.
—Carolyn Pyle Mathis, d'72
McPherson
I was one of your Class of '72 charges at Commencement. Thanks to your efforts over several months, it was one of my most memorable days ever!
On my return home to Colorado, I was still so excited that I pulled off the highway near Victoria, drove down a gravel road and stopped by a rural home with a Kansas post rock adorned with a Jayhawk. Now I'm anxiously awaiting completion of my own Jayhawk-inscribed post. I will install it at the base of the mountain leading to my home.
—Meredith Williams, b'72
Morrison, Colorado
Your opinion counts
Please email us a note at kualumni@kualumni.org to tell us what you think of your alumni magazine.