I loved your piece on Hoch Auditorium! ["Gone but not forgotten," Hail to Old KU, issue No. 2]
It was my senior year that it burned down. I had four years of performing in Vespers there, and was devastated to watch it burn, as I was on campus that morning. I have to share with you a quick story of my first Vespers.
Freshmen were relegated to a group called "University Singers." For Vespers, our name changed to "Balcony Choir." The first balcony was reserved for attendees, but the second balcony was spooky and unsafe, and we were perched there. The joke Freshmen were relegated to a group called "University Singers." For Vespers, our name changed to "Balcony Choir." The first balcony was reserved for attendees, but the second balcony was spooky and unsafe, and we were perched there. The joke was that our group sang in the balcony because freshmen were expendable.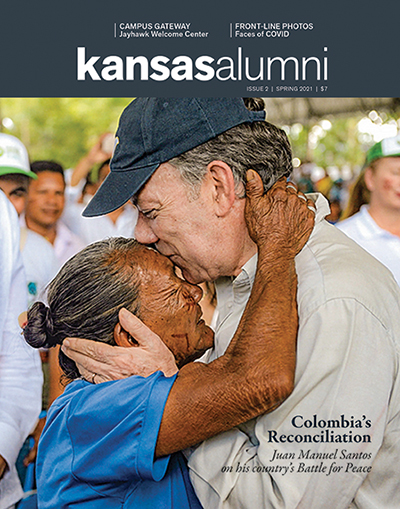 Our director was Sara Wentz, g'88, who to this day serves as the choir director at my Lawrence church. She was concerned that we could not see her from the first row because of the balcony's steep pitch, so she leaned backwards very dangerously over the railing while she directed us. We honestly thought she going to fall!
Thankfully she did not, and we all survived the Balcony Choir experience. That was December 1987, and I believe that balcony was condemned and closed a year or two later.
You helped me rekindle very fond memories of concerts and classes in Hoch. Like you, I did not care that it was imperfect. It was glorious and a deserving matriarch of Jayhawk Boulevard. You must let me tell you sometime about the choir director's robe that was accidentally saved from the fire!
–Curtis Marsh, j'92
Lawrence
I remember Dave Brubeck and Paul Desmond playing at Hoch Auditorium in the early 1960s. It was instrumental in my discovery and lifelong appreciation of jazz.
–Fred Flock, f'64
Farmington Hills, Michigan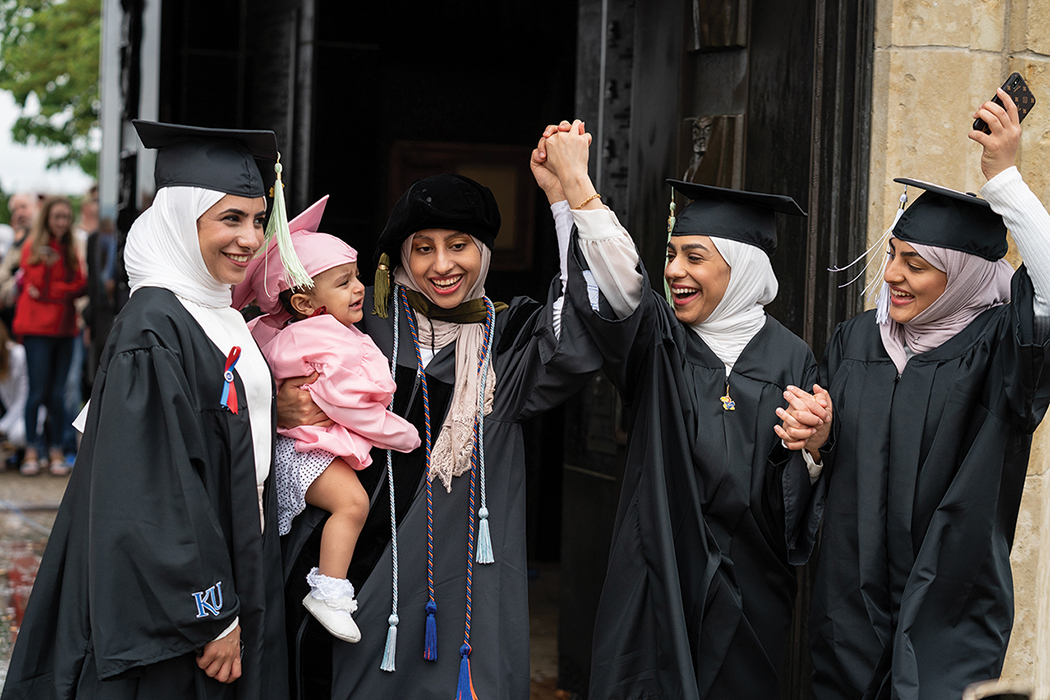 Picture of bliss
Love, love, love Steve Puppe's photo of the four women and a baby! [First Glance, issue No. 2] Thank you for such a prominent position in the magazine.
–Cara Connelly, f'71
Lawrence
Like mother, like son
As an alumna who graduated from KU more than 20 years ago, I never would have guessed that my little guy, Eli, d'20, would pick KU.
Our experiences were different, but we both enjoyed our time on the Hill. It was pure joy to watch and visit him throughout his four years at KU, and I am so grateful to the University for honoring the 2020 class during this year's Commencement.
–Amy Rodenberg Needle, c'97
Philadelphia
A letter about a letter
Did a letter published in Lift the Chorus ["And I quote," issue No. 2] conscript Henry Fowler to instantiate the dilemma posed in 1785 by Church of England cleric William Paley? Father Paley pondered Edward Gibbon's oblique criticism of Christianity in The History of the Decline and Fall of the Roman Empire and, presumably, sighed. "Who can refute a sneer?"
–George Bascom, c'73, m'76
Kearney, Nebraska
Forever friend
All involved in Kansas Alumni do a terrific job in creating such an interesting magazine. It takes me forever to read each issue because I'm compelled to read just about everything!
–Janet Kittlaus, b'65
Glenview, Illinois
Another Jayhawk rises
There was nary a ripple in the world of The Associated Press when a 22-year-old graduate of the William Allen White School of Journalism and Mass Communications quietly walked into the noisy, crammed AP office on the first floor of the State Capitol in Topeka to begin work as a temporary news staffer.
It was early January 1988 when Sally Streff joined the staff headed by veteran correspondent Lew Ferguson to cover the legislature and Kansas politics for the next six months—with the hope of all such relief staffers, that doing well could land a full-time position with the AP. She had been recommended to me by Tom Eblen, general manager of the Daily Kansan, a great judge of talent for me and many in the news business.
In his so-called "Lew Ferguson Finishing School for Boy and Girl Journalists," Lew sent many a young staffer on her or his road to bigger things in the AP and the news industry, and beyond. One, Dan Biles, is a justice on the Kansas Supreme Court.
May 30 was AP Executive Editor Sally Streff Buzbee's last day with the news company that became her work home for more than three decades—a career that began at the lowest rung in the AP news ladder and ended at its very top—and on June 1, she became executive editor of The Washington Post ["Buzbee to Post," Rock Chalk Review, issue No. 2], the first woman in its history to hold that position.
If Lew were alive, he'd be beaming with happiness and pride for this pupil in whom he helped instill the basics of being a journalist. As the AP bureau chief who hired her into that first job and then for her first full-time position in Kansas City, I'm beaming too. And confident of her continued success on another big stage.
Sally makes all of us so proud to be a Jayhawk.
–Paul Stevens, g'73
Lenexa
Debate for all?
It is my fervent hope that Saralyn Reece Hardy is sincere in her comments [KU Voice, issue No. 2] that a large public research university should be a place to "tangle with unfamiliar ideas and perspectives," "embrace others in their otherness" and "learn and respect difference." I say this because my observation is that in the last few years the University has been the antithesis of these expressions of inclusivity. The dismissal of and hatred toward any person or idea not in accordance with the "woke" left is palpable. Debate is smothered in angry, righteous rejection of ideas of "otherness." (Admittedly a new noun in my lexicon.)
I hope Director Hardy's concept of legacy entails "rethinking our future by repairing past ignorance and harm" perpetrated by political and philosophical thought—from left, right and those who do not think at all but are useful idiots.
–James Craig, p'69
Lenexa
February Sisters mark 50th anniversary
On Feb. 4, 1972, 30 women with four children in tow seized and occupied the East Asian Studies building at KU. They vowed to stay in the building until the University met six demands to advance justice and equity for women students, faculty and staff. Robin Morgan described it as the first time in American history that women planned and carried out an occupation of property in pursuit of their rights. Their demands forever changed KU and created the Hilltop Child Care Center; the Women's Studies program and major; an affirmative action plan, office, and board that included a February Sister as a member; a women's health clinic, including birth control availability at Watkins Health services; and women named to top academic administrative positions.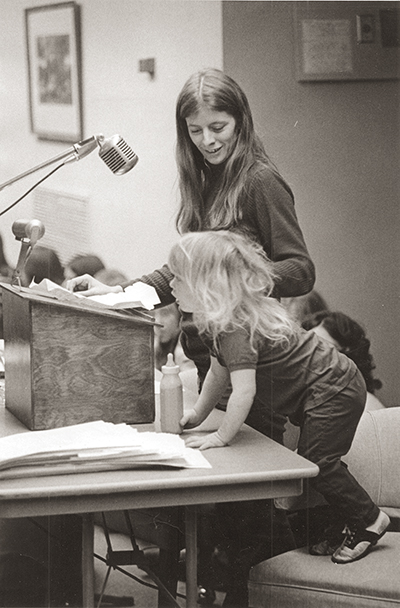 In February and March 2022, we will celebrate 50 years of this momentous event with a series of activities. We are interested in hearing from anyone involved in the February Sisters' action, inside or outside the building, including students, staff and faculty involved with Women's Studies, the Hilltop Child Care Center, the women's health clinic, the affirmative action office, or women administrators in the 1970s and beyond.
We want to hear from you and invite you to participate in our celebration. Please email the Department of Women, Gender, and Sexuality Studies at wgss@ku.edu with "February Sisters" in the subject line. Please do join us in the celebration of this significant anniversary.
–Elizabeth "Beth" Schultz
February Sister
Lawrence
–Christine Leonard Smith February Sister
Lawrence