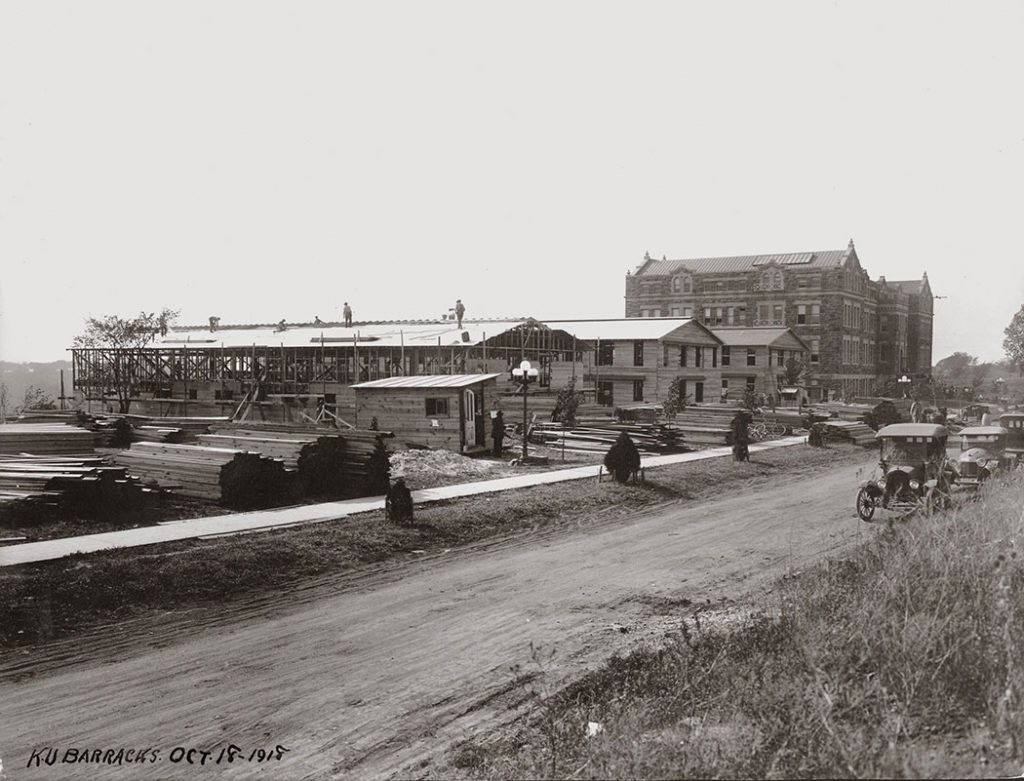 When more than 1,700 soldiers-to-be arrived on Mount Oread in August 1918 for induction in the Student Army Training Corps, they joined 650 others already on campus in Army and Navy training units. Chancellor Frank Strong's pledge to support the country's war efforts strained the University beyond its seams; barracks were constructed on Jayhawk Boulevard and Mississippi Street, and boarding houses and hotels across town became makeshift mess halls and bunk spaces.
On Oct. 8, another visitor arrived: 92 students reported ill with symptoms of the dreaded Spanish influenza. As Evie Rapport, d'70, g'78, reported in issue No. 6, 2018, more than 300 others fell sick within days and Samuel J. Crumbine, dean of the School of Medicine and secretary of the Kansas Board of Health, ordered campus closed. No one could leave town; public gatherings were forbidden. "Strict compliance," Strong announced, "is a patriotic duty."
Just as KU's first wave of Spanish influenza began to wane, another influx of trainees arrived, bringing new cases with them, and Strong extended the quarantine. The war in Europe ended Nov. 11, but the Spanish flu continued to rage at KU through Thanksgiving; given worldwide death tolls of perhaps 50 million, KU's tally of 32 fatalities from 1,000 cases seemed nearly miraculous.
A century later, KU leaders once again reacted swiftly to global pandemic, but this time with a significant difference: a goal of zero virus-related deaths.
"We don't know of a student at KU who has passed away from this," Provost Barbara Bichelmeyer, j'82, c'86, g'88, PhD'92, told Kansas Alumni in April, a month after COVID-19 fears halted campus activities, "and we don't know of a faculty or staff member from KU who has passed away from this. We are very fortunate right now. I don't know how long this will be for us, but so far we seem to have done something very well in Kansas."
Bichelmeyer, Chancellor Doug Girod and emergency management coordinator Andrew Foster, c'12, have all pledged to maintain public safety as the University's paramount priority, even as every Jayhawk yearns to return. KU's performance in 1918 was admirable; this time, campus leaders intend to far exceed that daunting achievement.
Among the flood of emails her office has received from frightened parents, Bichelmeyer was particularly touched by a note from a father who shared his appreciation that "KU is, at heart, a place that is taking care of his daughter, his precious daughter. And how, while she's broken-hearted that she doesn't get to go through Commencement, he so appreciates, in a way that he never even really thought about, how well we've taken care of her."
A simple phrase once uttered mechanically suddenly means everything: Take care.