Lawrence bookstore gains sales boost from bestselling writer and his online fans
Lawrence's Raven Book Store enjoyed an unexpected boost on Amazon Prime Day after a Texas author asked 300,000 Twitter followers to buy from the small bookseller instead of the online behemoth as a show of support for striking Amazon workers.
Shea Serrano, a social media savant whose fans form the online "FOH Army," makes headlines as much for Twitter philanthropy (he once raised $130,000 for Hurricane Harvey victims) as for bestselling books like Basketball (And Other Things). Tweeting his support for striking workers July 15, he challenged followers to nominate a local store and promised to make the first purchase himself; Serrano fan and Raven owner Danny Caine, g'17, rang in and soon orders began rolling in. As Serrano cheered them on, FOHers made 365 buys, surpassing in one day the store's online sales for all of 2018.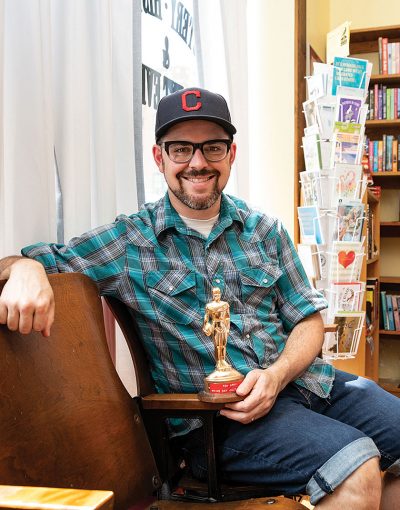 Caine, who called the slow-season sales surge "a bit of Christmas in July," showed his appreciation by buying a secondhand trophy and turning it into a tribute to Serrano and his online army.
"I thought the trophy would be funny and get good traction on Twitter, which it did," he says. And he hopes it encourages his newfound friends to dig the store IRL.
"We're happy to sell books online, but the best Raven experience is in-store," Caine says. "Come see the trophy, but once you're here you've got the book smell, and the cats and all the comfy chairs."
In September the Midwest Independent Booksellers Association honored Caine with the Midwest Bookseller of the Year Award, citing his own Twitter advocacy (an earlier series of Tweets explaining why books cost more in independent bookstores went viral and was showcased in the Chicago Tribune), his creation of a store newsletter, and his role in organizing the upcoming Paper Plains literary festival as examples of a store "finding its voice … and using it to strengthen independent bookselling."