University Archives celebrates celestial souvenir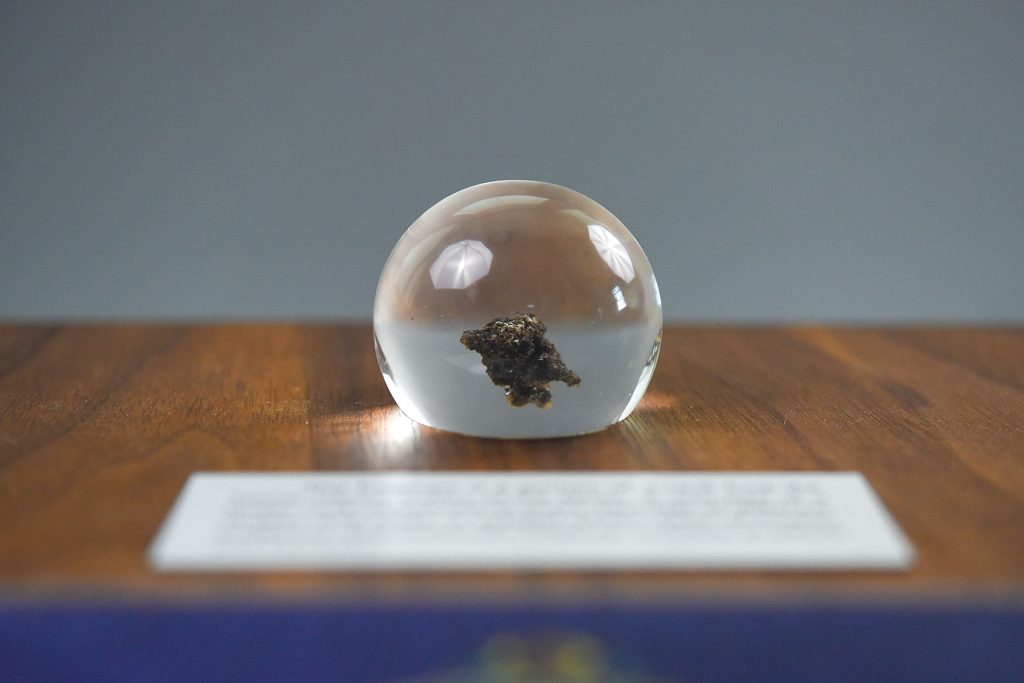 Fiftieth-anniversary commemorations of the moon landing brought to light a little known (by us, at least) artifact from Spencer Research Library: a moon rock billed as University Archives' oldest item.
The 3.7-billion-year-old fragment is part of a larger rock collected by astronaut Gene Cernan on the 1972 Apollo 17 mission. After the crew's final foray in the lunar rover, Cernan addressed a group of international youths visiting Houston, describing the specimen as an apt symbol of Apollo's challenge to the future.
"Fragments of all sizes and shapes—and even colors," Cernan said, "have grown together to become a cohesive rock, outlasting the nature of space, sort of living together in a very coherent, very peaceful manner."
The plan, Cernan announced, was to share it with the world. "We hope that this will be a symbol of what our feelings are, what the feelings of the Apollo Program are, and a symbol of mankind: that we can live in peace and harmony in the future."
Pieces of Apollo sample 70017, known as the Goodwill Rock, were sent to 135 heads of state and governors of all 50 U.S. states, including then-Kansas Gov. Robert Docking, b'48. The lunar souvenir came to KU with Docking's papers in 1975. It was one of 50 objects in last fall's exhibition celebrating the library's 50th anniversary.
"We had a lot of fun with the date we put on the moon rock," says Beth Whittaker, c'92, g'94, library director. "We went with 'approx. 3.7 billion years old,' which is the only time I have ever written anything like that in my career.
"It's a question we get a lot: What is the oldest item in your collection? We usually talk about our cuneiform tablets. One's on display in the North Gallery now, and it's super-fun to walk by with guests or tour groups and say, 'You know, this clay tablet is 4,000 years old and has the markings of a human hand on it.' That's usually pretty impressive to people, but it's nothing compared to 3.7 billion years!"
Notably, Docking wasn't the only Jayhawk who helped deliver Mount Oread's moon memento. Astronaut Ron Evans, e'55, flew Cernan, Harrison Schmitt and their 240 pounds of samples safely back to Earth as Command Module pilot on Apollo 17.
A celestial triple play: Evans to Docking to Spencer. From the stars, through difficulties.