Purple prose finds KU home
Treasured Jayhawk cookie tin features surprising rival message
Fifty years ago, longtime friends David Pittaway and Jeff Dunn moved into Oliver Hall as freshmen at KU. To help them ease into college life, Pittaway's mother baked a batch of cherry-drop cookies, which she gave to the roommates in a hand-painted Jayhawk cookie tin.
The sweet treats were an instant favorite. Soon Pittaway, c'72, and Dunn, b'73, had devoured the entire batch, only to make a shocking discovery: At the bottom of the tin, in bold purple letters, were the words "Every Man a Wildcat!"
"We laughed," Pittaway recalls. "I called my mother and said, 'What is this?!' She said, 'Well, your father went to Kansas State and I figured that you ought to have a reminder of that in your cookie tin.'"
Pittaway stored the treasure with other KU mementos until his mother passed away in 2015, when he gave it to Dunn. The two friends recently donated the purple-tinged tin to the KU Memorial Union, where the jaunty hand-painted Jay will be a welcome addition to more than 1,000 mascot figurines and memorabilia in the Jayhawk Collection on the second floor—as long as no one peeks inside.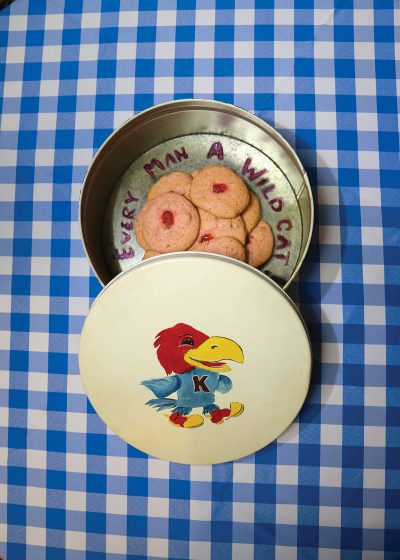 Cherry-drop cookie recipe
(Makes 4-5 dozen 2 1/2 inch cookies)
Ingredients:
1 package Duncan Hines Cherry Supreme Deluxe Cake Mix
1/2 cup cooking oil
2 tablespoons water
2 eggs
Few drops red food coloring, if desired
1 cup chopped nuts
Quartered Maraschino cherries
Preheat oven to 350°.
Blend cake mix, oil, water, eggs and food coloring, if desired. Stir in nuts. Drop from a teaspoon onto an ungreased cookie sheet. Top each cookie with a quarter of Maraschino cherry.
Bake at 350° for 10-12 minutes.
Cool on cookie sheet for about one minute, then remove to rack to finish cooling.