Have you heard the one about the thru-hiker?
I just finished reading the fascinating article about Sean Powers ["A Man Walks Into a Bar," issue No. 4, 2021] in the latest Kansas Alumni. I enjoyed following his unusual career since graduation and the brave decisions he has made. If only all of us could have the courage to follow our dreams. I would love to see his standup comedy routine!
–Linda Mullens, c'76, g'79
Lawrence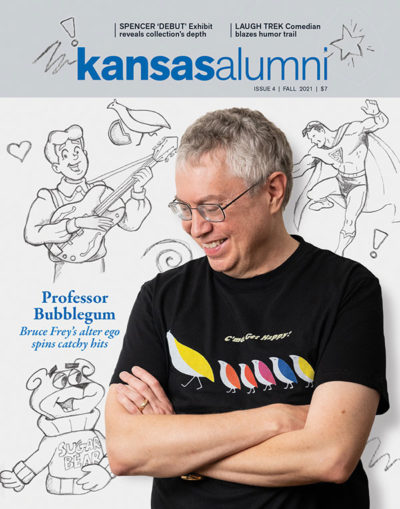 Mentor remembered…
The previous issue of Kansas Alumni noted the death of KU faculty member Dr. Bruce Linton, professor emeritus of journalism [In Memory, issue No. 4, 2021].
Dr. Linton had a significant impact on my life. He took a chance on admitting me to the graduate program—even though I had in earlier years flunked out of the University of Kansas as an undergraduate.
I left Lawrence and earned a BA degree from the University of South Dakota and had been working for a couple of years at a film production company in Kansas City when I approached him about his graduate program. It was a turning point in my life, as the film company was shutting down its operation in Kansas City and I wanted to find a new direction for my career.
Dr. Linton was a mentor in every sense of the word, and when he gave me a recommendation to the University of Idaho in 1963, I was on my way to a most satisfying career.
To make a long story short, I spent 40 years working for the University of Idaho and the high points were being general manager of our public broadcasting stations and serving as the director of our School of Communication. I am in debt to him for his trust and guidance. My respect for him had me calling him Dr. Linton—never Bruce—as long as I knew him. Almost every time I visited Lawrence I tried to stop by 900 Hilltop to visit with Dr. Linton and his wife and catch up on the KU television and film programs, as well as other graduates from my era. KU was fortunate to have him as a distinguished member of its faculty.
–Peter Haggart, g'63
Moscow, Idaho
Far-flung friends
I appreciate your efforts to reach faraway Jayhawks. It's not always easy.
KU has a special place in my heart. I have spent there two of the best years in my life: both academically and on a personal level.
With my wife we made long-lasting friendships at KU and Lawrence and took a couple of very long trips by car in the U.S.
The alumni magazine and the internet keep me close to KU news. Also my frequent contact by email with my beloved professor Jarek Piekalkiewicz, who at the age of 95 retains an admirably brilliant mind.
–Dimitri Theodoridis, g'75
Thessaloniki, Greece
'Chaos of the day'
I was so pleased to see the article about Elizabeth Leonard and the founding of Friends in Council in the latest Kansas Alumni ["Like-minded women," Hail to Old KU, issue No. 4, 2021]. She was a distinctive personality who set an early standard of excellence on the faculty. She was almost the first to go when one of the already chronic financial crises hit in 1874; that her high principles and decided opinions had grated on Chancellor Fraser didn't help any, I'm sure.
I did want to point out a tiny bit of misinformation in the article. Speaking of the morning of Quantrill's raid, it says, "On that dreadful morning, Charles happened to be out of town and Quantrill's gang inexplicably spared the Robinsons' home, north of the Eldridge Hotel …"
According to the biography of Charles Robinson written by Frank Blackmar, founding dean of the Graduate School and Robinson's executor, Robinson was in town that morning and left very early from their home to go to their farm on the top of Mount Oread. He was just starting up the 11th Street hill when he heard gunfire, shouts and alarms: "The bushwhackers are coming! Run for your life!" He took cover in his stone barn on the hilltop, near where New Fraser and Danforth Chapel are now, for some time, watching the raid.
Afterwards, Robinson returned home, where Sara and Elizabeth had gathered weapons and barricaded the doors but were not directly threatened; Robinson, Sara and Elizabeth joined other survivors in tending the wounded—he was a physician—and contacting supporters and aid agencies in the East and officials at Fort Leavenworth and in Topeka.
KU historian Clifford Griffin says Blackmar finished his biography in 1902, with Sara "practically guiding his pen," so I hope this dramatic account has some validity. The chaos of the day inevitably caused much confusion, no doubt.
–Evie Rapport, d'70, g'78
Lawrence
Editor's note: Rapport writes and lectures about KU history for outlets including Kansas Alumni magazine and the Osher Lifelong Learning Institute.