Talk and squawk in the news
"Good Morning America" correspondent Becky Worley: "Guys, this is a dream assignment, I tell ya."
GMA host Robin Roberts: "Are you really there? Because that looks like a movie set. So picture-perfect."
Worley: "It's incredible, you guys. I can't even believe I'm standing here and it's gotten more beautiful as we've been here all morning long."
—Worley reporting live on ABC alongside Ted Grinter, '92, on his family's beloved sunflower farm near Tonganoxie, during the live stand-up segment of Worley's Sept. 9 "Rise and Shine" travel feature. Worley's report also included a visit with men's basketball coach Bill Self in Allen Field House and "Ted Lasso" actor Jason Sudeikis' parents at Sporting Kansas City's soccer stadium, and pieces on the Eldridge Hotel, Joe's Kansas City Bar-B-Que,
and, because of course, Wamego's Oz Museum.
"These terms don't exactly roll off the tongue. A kid's not going to want to grow up dreaming to be a civilian crew. Space tourist is not a good Halloween costume."
—Andrew McKenzie, associate professor of linguistics, in a Houston Chronicle story on the debate over what to call Jeff Bezos, Richard Branson and others who flew on private spacecraft this year, the first time Americans not trained by NASA orbited Earth.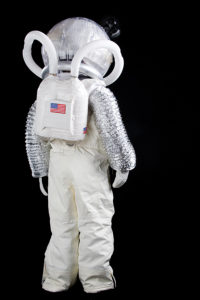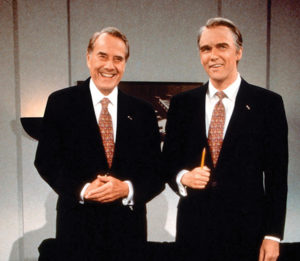 "Norm @normmacdonald was a great talent, and I loved laughing with him on SNL. *Bob Dole* will miss Norm Macdonald."
— A tribute tweet from former U.S. Sen. Bob Dole, '45, after the Sept. 14 death of his Saturday Night Live doppelganger, who made America laugh with his good-natured impersonations during Dole's 1996 presidential campaign.
"Would be a lot cooler if this was a pool but whatever."
—A Twitter post by @StudentsofKU in response to the giant, blue "KU" letters atop the Wescoe Hall roof. CentiMark, a commercial roofing company in Lenexa, recently installed a new roof on the building and added the rooftop logo at no extra charge. According to KU officials, the graphic, which measures 80 feet from top to bottom, will be highly visible on Google Earth.