Advocacy for Native women earns national honor for alumna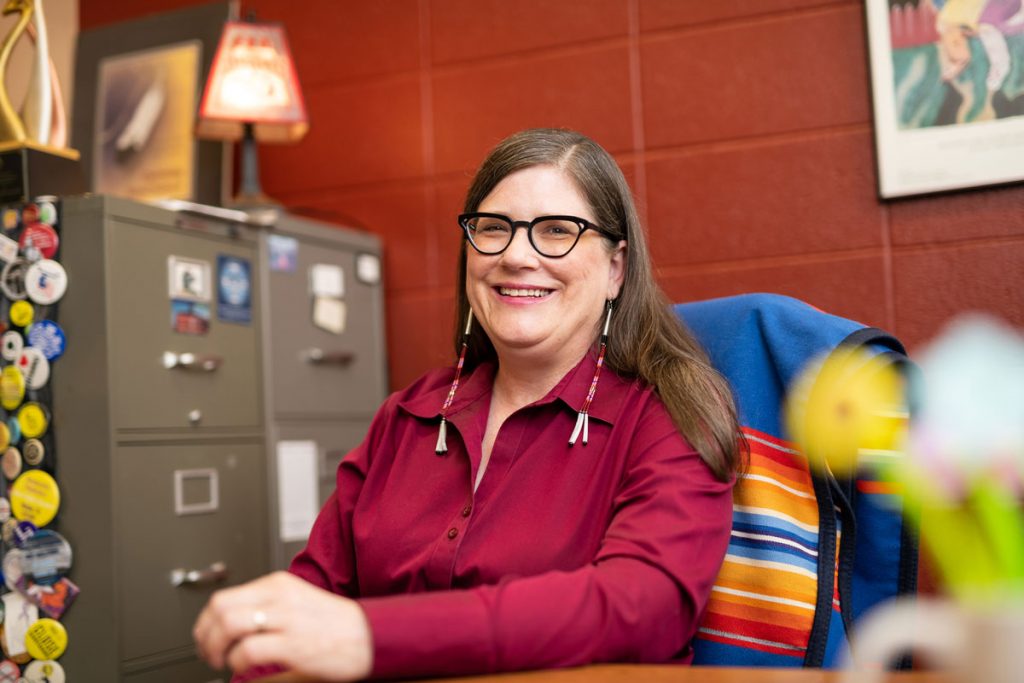 KU professor Sarah Deer will be inducted into the National Women's Hall of Fame Sept. 14 in Seneca, New York, joining Amelia Earhart, Gwendolyn Brooks, Jean Kilbourne and Ruth Patrick as the only five Kansans to be so honored.
A Wichita native and a citizen of the Muskogee (Creek) Nation of Oklahoma, Deer, c'96, l'99, is not surprised to be one among a relative few.
"That's typical, I've found, of these national awards," Deer says. "They tend to hug the coasts a little bit, and us flyover states don't get as much representation. But it's the same issue with Native women. There's a handful, and two of them are Pocahontas and Sacagawea. Contemporary Native women aren't always recognized."
Deer says she hopes to change that by encouraging nominations of Kansas and Native women to the hall by helping to highlight their voices herself. A similar goal has also been a big part of her efforts to end violence against women. In her scholarship and public policy work Deer has long focused on the intersection of federal Indian law and victims' rights. She was a leading contributor to successful efforts to pass the Tribal Law and Order Act of 2010 and to reauthorize the Violence Against Women Act in 2013, both of which gave more authority to tribal courts to protect Native women against domestic violence. That work earned her a MacArthur Fellowship in 2014. She joined the KU faculty full time in 2017 with a joint appointment in the School of Public Affairs and Administration and the department of women, gender and sexuality studies.
"The risk I take all the time in talking about violence, which is my priority issue as a scholar and an activist, is that I don't want that to be the image that people have of Native women, that they are victims," Deer says. "It's a fine line in terms of educating people and saying, 'This is the reality,' and also saying, 'But please don't stereotype us, please don't think about us as being these passive victims.'
"I think that's my biggest challenge in my work, is trying to say, 'Here's some strong Native women and also here are the most victimized people.' It's difficult to get both of those storylines out at the same time."
2019 marks the 100th anniversary of women winning the right to vote in New York and the 50th anniversary of the hall's founding. Since the first class, in 1973, the organization has inducted 276 women.
This year's class also includes Angela Davis, Jane Fonda and U.S. Supreme Court Justice Sonia Sotomayor.
"They're all amazing, but I think for me, as an attorney, standing on a stage with Sonia Sotomayor is probably the biggest thrill," Deer says.
Deer will speak at The Commons in Spooner Hall Oct. 1 at 7:30 p.m. as part of the 2019-'20 Humanities Lecture Series sponsored by the Hall Center for the Humanities. Her talk, "Sovereignty of the Soul: Centering the Voices of Native Women," presents another opportunity to educate. "What I'm hoping to do is really push the average attendee, the non-Native attendee, to not think about Native people in the past," Deer says, "but to think of us as 21st-century players." Citing a study on children's books about Native Americans that found the majority were set in the 19th century or earlier, she argues there's "a vacuum of knowledge" about what Native life is like today. "I have just about an hour to educate the audience about Native women in particular and about violence against Native women. Those are my themes."